Japanese or Korean style are recognized as simple wear icons, people therefore may not aware of European fashion may also be an alternative. Here we are specially introducing four European brands promote simple and effortless clothing. No matter you are hanging out with friends or going for a causal business meeting, you can easily match a suitable outfit among their product lines. 
A.P.C., which is a fashion brand founded in Paris by Tunisian-born Jean Touitou. The signature style of clean lines and refined patterns immediately catapulted the brand to cult status. Simple design creates an unadorned image with sometimes colored flower pattern on plain cloth to demonstrate uniqueness. A.P.C always stands out to be an introverted French brand, the products are mainly daily wear which aims at achieving best cutting outfit and quality. The founder positioned his brand as "No a Trend" at a very early stage, until now, the position still valid. Therefore, the products are suitable for all seasons including T-shirt, shirt, jeans, jacket and Trench coat.
Under materialism, people desire luxurious logo on products to present their privilege. However, A.P.C has not followed this trend over the past 30 years but remains low-profile in fashion industry. It hopes to promote the mind of basic living, emphasizes on minimalism.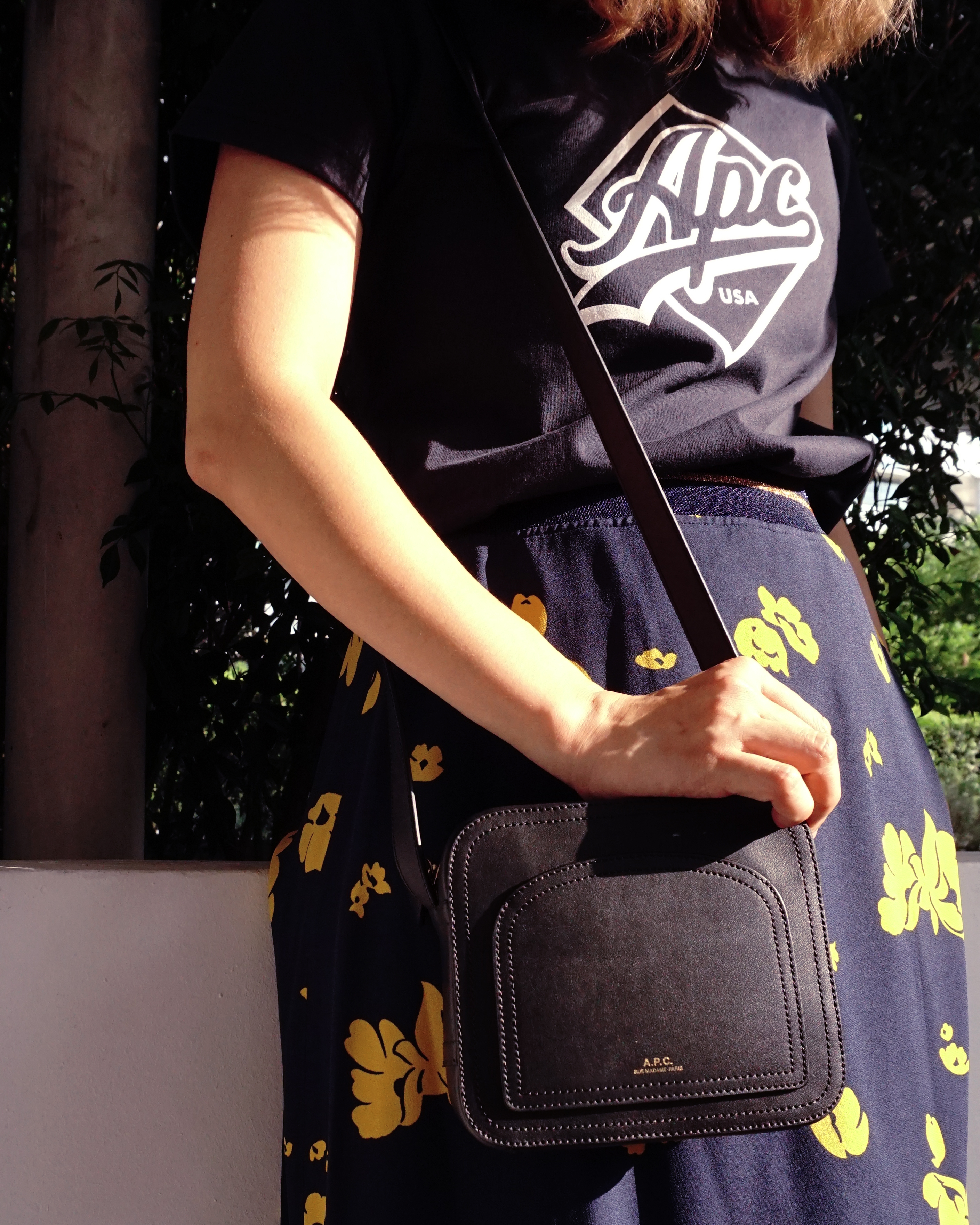 If you are looking for a light and handy outwear for hanging out with buddies, Margaret Howell is a good choice. Margaret Howell is known for her British-inspired, understated design. using only the finest materials, each and every piece by Margaret Howell is comfortable, relaxed yet simultaneously elegant and sophisticated. Her products neither contain fancy accessories nor hyperbole outfit.  Margaret Howell
stresses on the structure and comfortableness of clothing. The nature and reality of fashion are the most crucial elements of the brand. All clothing features a delicate, soft texture wool, cotton and linen. Wearer can easily have a feeling of dexterous without pressure.
Margaret Howell gives a neutral image with her unisex design which offers a special style to woman. This brand is welcome by young ladies who enjoy elementary lifestyle. There is no innovative design but with warm British feelings, showing the wearer's elegant connotations, especially the feeling of fresh and vulgar.
Norse Project came out when many great labels emerge in Denmark. And after years in the mix Norse Projects - one of Copenhagen's finest boutiques launched their inaugural collection. There's something great about the Scandinavian twist on clothing, we say clothing because this is exactly what it is - basic and functional with a workwear aesthetic. These are serious clothes for people who appreciate the finer details. Clothing of Norse Project are designed base on minimalism. The hats are made in US while the other products are made in Europe, therefore a certified quality has shown. The European style clothing. 
4. Maison Labiche
Maison Labiche was innovated by two good friends Jenny and Marie for craftsmanship. in 2011, their first collection of embroidered t-shirts came out, and since then, they keep on brainstorming new products. At Maison Labiche, they try to create timeless series, to follow from season to season. the people & songs collection is a tribute to those people who make us dream or laugh, while the hands collection highlights the universal language transmitted through the hands. Each product acts as an art piece to transmit emotions or values. All products are embroidered in France. By combining traditional embroidery into modern clothing, Maison Labiche successfully graft new customs onto old. This is an excellent example of fashion legacy. If you are fascinated in simplicity with unlikeness, Maison Labiche surprises you.